Oregon Indian Casinos
9 Indian Casinos and 8 Tribes
There are eight American Indian tribes that own casinos in Oregon. These casinos are built and operated under the Indian Gaming Regulatory Act enacted by the U.S. Congress in 1988. The law created the National Indian Gaming Commission (NIGC) to regulate Indian gaming in Oregon.
Four Federally-recognized Oregon tribes worked with the NIGC to build casinos on "off-reservation" land. This is land purchased as "restored tribes" and transferred into federal trust for purposes of gaming. The four tribes and their casinos include: Grand Ronde - Spirit Mountain Casino (Grand Ronde); Coos/Lower Umpqua/Siuslaw - Three Rivers Casino (Florence); Coquille - The Old Mill Casino (North Bend); and Siletz Indians - Chinook winds (Lincoln City)
#1 Casino Choice of U.S. Players
Blackjack • Slots • Tables • Live Dealer • Video Poker
BOVADA CASINO
$3,000 Welcome Bonus!
##1 Casino Choice of U.S. Players
Blackjack • Slots • Table Games • Live Dealer • Leaderboards • Video Poker
BOVADA CASINO
$3,000 Welcome Bonus!
News Headlines
Wildhorse Casino expansion places final structural beam

February 6, 2020

-

Constructions crews at Wildhorse Resort & Casino placed the final structural beam on the $85M expansion project scheduled for completion this summer. It will add bowling lanes,food court

... Read more
Chinook Winds Casino will host Siletz Tribe's 42nd Annual Restoration Powwow

November 14, 2019

-

This Saturday the Siletz Tribe, owners of Chinook Winds Casino, will celebrate the 42nd anniversary of the federal government's restoration of their tribe

... Read more
Chinook Winds is opening Sports Betting Lounge Aug 27

August 19, 2019

-

The Chinook Winds Casino open a Sports Wagering Lounge on Aug 27. The casino's website has posted sports betting rules as well as open job opportunities.

... Read more
Oregon readies mobile sports betting

August 5, 2019

-

Oregon Lottery will launch its new mobile sports betting app and website later this month. It is named the Oregon Lottery Scoreboard and will go live prior to the first game of NFL regular season.

... Read more
More Headlines ...
Approved Table Games
The Gaming Division of the Oregon State Police has approved the following list of casino games for Oregon's tribal casinos. Each casino offers some or all of the games on the list.
Oregon Casino Map
Click on any of the Oregon counties on the map below to find local casino information, or scroll below the map to search an alphabetical listing of counties and their casinos.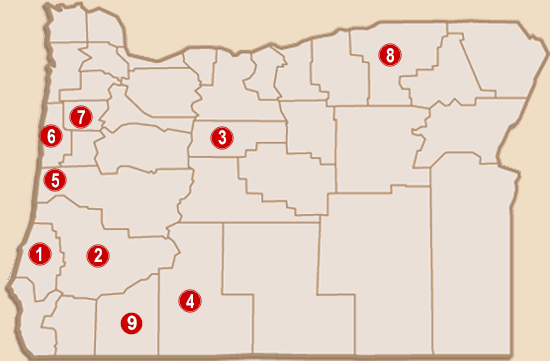 Oregon Casino List by County
1. COOS COUNTY
2. DOUGLAS COUNTY
9. JACKSON COUNTY
3. JEFFERSON COUNTY
4. KLAMATH COUNTY
Click For Practice Play
FREE SLOTS • No Signup • Instant Play
Exclusive Free Play! Select any of these three slot games for exclusive access inside BOVADA CASINO. No player signup is required. No deposit.
5. LANE COUNTY
6. LINCOLN COUNTY
7. POLK COUNTY
8. UMATILLA COUNTY
News Articles
Oregon readies mobile sports betting
August 5, 2019
This month Oregon will become the first state in the Northwest to launch a sports betting app and website for any Oregon resident age 21 or older to bet on professional sports.
Single-game betting, live-game betting and parlays will be accepted. Betting on college sports is banned. Only Oregon residents will have online access. Out-of-state players will be blocked by software.
Oregon's sports betting platform will be operated by the state lottery. It is named the Oregon Lottery Scoreboard (OLS) and will be online before the first game of the NFL regular season Sept 5.
---
Tribal recognition could bring casino to Southern Oregon
April 04, 2018
A Siskiyou County tribe is seeking federal recognition from the U.S. government. Residents from the city of Ashland are ready to express their concerns of a possible casino project if the tribe is granted the recognition from the federal government.
The Ruffey Rancheria is located in central Siskiyou County, California. They are descended from Indian villages from that area. In 1958 Congress removed the tribe's federal recognition. Now they are actively trying to restore their status.
In July last year the "Ruffey Rancheria Restoration Act of 2017" was introduced. House Resolution 3535 was presented by Congressman Doug LaMalfa, R-Richvale, California. The act would return over 440 acres of land back to tribe. It would also restore their federal recognition with the U.S. government.
The bill states that if the approved, the tribe could be allowed to develop a casino on their land.
The exact boundary and location for the proposed tribal land has not yet been determined. However, it could possibly put a casino located in Sothern Oregon if approved.
The city of Ashland is located near the possible location for the tribal land. There is a radius of 25 miles around that land that could obtain casino designation. This has raised concerns for the city and its residents.
So far this year the bill has not progressed.
A letter of concerns of the possible casino could be sent to the federal government on behalf of the city. Rich Rosenthal is the City Councilor for Ashland. He stated that he would like to send a letter if progress is made in the tribal recognition.
Currently the tribe has not contacted the city.
---
---
News Headlines Continued
Wildhorse Resort & Casino starts $85M expansion

June 20, 2019

-

Wildhorse Casino is adding a new, 24-lane bowling center, a food court and a family arcade. This is Phase 1 of a $85M expansion project which will be followed by a new hotel tower and events center in Phase 2.

... Read more
Chinook Winds Casino Celebrates 24th Anniversary

June 13, 2019

-

Chinook Winds Casino is celebrating its opening in 1996 with special promotions and prizes, a huge fireworks display and live country music performers..

... Read more
Wildhorse Casino Expansion is Delayed

April 15, 2019

-

The shortage of local construction workers and higher labor costs have forced Wildhorse Casino to stop its expansion plan and consider changing to a phase-by-phase construction projects.

... Read more
Tribe acquires more land around Medford casino site

February 20, 2019

-

Over the last few years the Coquille Tribe has been buying additional parcels of land around their proposed casino site. The Tribe now owns or controls about 45 acres.

... Read more
New Parking Garage Added to Chinook Winds

December 13, 2019

-

A new 380-spaces parking garage has been built on the northwest side of the Chinook Winds Casino Resort. Its grand opening will include a ribbon-cutting ceremony Dec. 13.

... Read more
Expansion update for Wildhorse Resort & Casino

December 06, 2018

-

Some changes to the expansion plans for Wildhorse Resort & Casino have become neccessary to keep construction costs within a $85 million budget.

... Read more
Kah-Nee-Ta Resort is closing

July 8, 2018

-

The Confederated Tribes of Warm Springs have announced the permanent closure of their Kah-Nee-Ta Resort after this summer season. The final day is Septemeber 5, 2018.

... Read more
Tribal recognition could bring casino to Southern Oregon

April 4, 2018

-

The Ruffey Rancheria is seeking federal recognition which could authorize a tribal casino. The proposed tribal land is to be determined and could include Southern Oregon.

... Read more
Indian Head Casino's Plateau Travel Plaza opens soon




March 23

-

The new Indian Head Casino's Plateau Travel Plaza will soon open off U.S. Highway 26 and Cherry Lane. It will host 30 slot machines.

... Read more
10.02.2017

Wildhorse begins major expansion in Spring 2018
08.17.2017

Kla-Mo-Ya Casino breaks ground for hotel
07.06.2017

Wildhorse Casino plans $85 million expansion
05.03.2017

Proposed Salem casino planned for 2021
News Archive
04.30.2015
Three Rivers Casino Coos Bay to Open Next Week
11.04.2013 Medford Casino Meets Opposition by OR Senators
09.24.2013 Proposed Medford Casino Opposed
04.23.2013 Coquille Tribe Plans for Medford Casino
10.06.2012 Cowlitz casino wins support from U.S.
08.23.2012
Proposed casino The Grange to be located at Old Racetrack
04.12.2012
Multnomah Greyhound Park to Possibly become Casino
12.23.2010 Proposed La Center casino get major boost from Fed
11.02.2010 Wood Village casino measure defeated
08.06.2010 Cascade Locks Casino gets Federal nod
06.07.2010 Burns Paiute Tribe wants new casino in Ontario, OR
02.25.2010 Wildhorse Casino celebrates 15th anniversary
02.18.2010 Cowlitz endure long wait on La Center casino decision
01.28.2010 Wildhorse casino opening new sports bar
01.21.2010 Wildhorse Casino pays $144,666 MegaJackpot
10.05.2009 Cascade Locks casino 08.24.2009 Poll favors Portland casino
07.21.2009 Penny slots pay out $1 million at Three Rivers Casino
06.19.2009 Court: 'Legality of Three Rivers Casino in Florence can be challenged'
06.02.2009 Cowlitz La Center casino offer running out of time
05.16.2009 Wildhorse Resort Casino plans expansion
01.29.2009 Cascade Locks Resort & Casino opposed by Wu
11.25.2008 Cowlitz Casino Resort in La Center
07.07.2008 La Center resort casino update
06.28.2008 Mill Casino opens new hotel tower
06.13.2008 Three Rivers Casino legal existence challenged in court
05.30.2008 Cowlitz La Center casino moves forward
05.19.2008 Spirit Mountain Casino open huge buffet
05.09.2008 Wood Village Casino Proposal Dropped
04.24.2008 Wood Village Casino Plan Stalled
04.08.2008
Clark County officials dancing around casino issue
03.27.2008
Seven Feathers expanding hotel and restaurant
03.06.2008 Wildhorse Resort & Casino plans $25 million expansion for 2009
02.27.2008
Mill Casino moving along with new hotel tower construction
02.15.2008 Hearings Scheduled on Gorge Indian Casino Plan
02.15.2008
Gorge casino plan to receive public hearings
01.09.2008 Cascade Locks Casino Still in Play
12.26.2007 Casino at Cascade Locks May Not Be Built
11.29.2007 New Casino Proposed near Gresham