New York Indian Casinos
16 Indian Gaming Operations and 4 Tribes
Indian Casinos
New York has 16 federally-approved Indian gaming operations. This includes eight Class III Indian casinos (Vegas-style), four Class II Indian Casinos (non-banker casino) and four Retail Outlets with electronic gaming machines.
The eight Class III Indian casinos featuring vegas-style gambling are Akwesasne Mohawk Casino Resort, Point Place Casino, Seneca Allegany Casino & Hotel, Seneca Buffalo Creek Casino, Seneca Niagara Casino & Hotel, Turning Stone Casino Resort, The Inn at Turning Stone, and Yellow Brick Road Casino.
Indian gaming Class II (without a "house banker") is played at 4 locations: LakeSide Entertainment, Seneca Gaming & Entertainment Allegany, Seneca Gaming & Entertainment Cattaraugus, and Seneca Gaming & Entertainment Oil Spring.
More information and descriptions of these facilities can be found in the content below.
State-Licensed Casinos and Racetracks
In addition to Indian gaming the New York State Gaming Commission has licensed 11 racetracks. Nine of these racetracks (also known as racinos) are licensed for Video Lottery Terminals (VLTs) and Electronic Table Games (ETGs) gaming.
The Upstate New York Gaming Economic Development Act of 2013 was signed by Governor Cuomo on July 30, 2013 authorizing four new casino resorts. Gaming licenses were awarded to:
Voted #1 Casino
Our players chose Bovada! $3,000 Welcome Bonus.
"#1 Favorite Casino" | No Surprise!
Our players overwhelming picked Bovada as their favorite online casino, and no wonder! Over 300 of the newest slots & table games, online poker & sportsbook! $3,000 Welcome Bonus.
US Players Welcome.
News Updates
Buffalo Creek Casino to buy naming rights to Metro Rail station

-

A contract has been approved by the Niagara Frontier Transportation Authority to rename the Erie Canal Harbor Station to "Buffalo Creek Casino at Canalside".

... Read more
Turning Stone Named #1 Best NY Gaming Resort

September 5, 2018

-

For the third year in a row Casino Player Magazine has recognized Turning Stone Resort Casino as the #1 Best Overall Gaming Resort in New York. This is one of 8 first place awards.

... Read more
Turning Stone celebrates 25th anniversary

July 17, 2018

-

In 1993 the original Turning Stone building was opened on a 400-acre site in Verona, NY. Two years later slot machines were added.

... Read more
MGM Buys Empire City Casino for $850 Million

June 2, 2014

-

MGM has purchased the Empire City Casino and Yonkers Raceway as it positions to expand into the New York City gaming market.

... Read more
Magazine rates the best NY casino dining and nightlife

May 16, 2018

-

Casino Player Magazine has announced their selection of the 2018 Best of Dining and Nightlife awards for New York state casinos.

... Read more
Turning Stone Casino will add sports betting




May 14, 2018

-

The Oneida Indians are preparing to offer sports betting at their Turning Stone Casino and intend to introduce it very soon.

... Read more
Seneca Niagara Casino starts $40 million renovation

April 27, 2018

-

The 15-year-old Seneca Niagara Casino has begun a major renovation project named Seneca Arrival Experience, which will make dramatic changes to the exterior and overall architectural features.

... Read more
More NY casino news ...
Casino Map
CASINOS BY COUNTY
Click on any of the counties on the map below to find local casino information, or scroll below the map to search an alphabetical listing of counties and their casinos.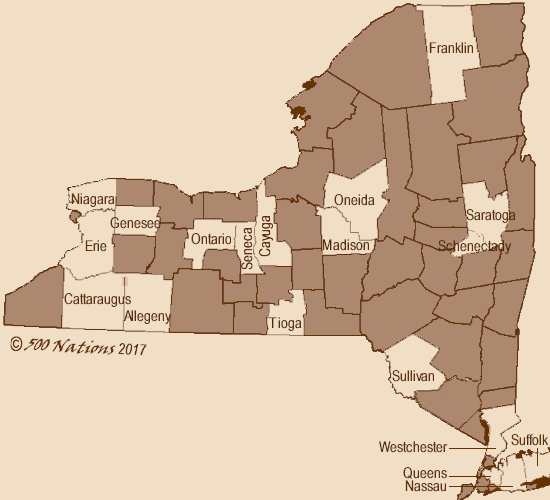 $250 Sportsbook Welcome Bonus
Best lines and Live Betting on all sports at Bovada!
Welcome
$250 Sportsbook Welcome Bonus
Best lines, props and live betting on all sports at Bovada! Find the most betting options on Sports, Politics and Entertainment than anywhere else.
US Players Welcome
County List of New York Casinos
ALLEGANY COUNTY
CAYUGA COUNTY
CATTARAUGUS COUNTY
ERIE COUNTY
FRANKLIN COUNTY
GENESEE COUNTY
MADISON COUNTY
NASSAU COUNTY
NIAGRA COUNTY
ONEIDA COUNTY
ONTARIO COUNTY
QUEENS COUNTY
SARATOGA COUNTY
SCHENECTADY COUNTY
SENECA COUNTY
SUFFOLK COUNTY
SULLIVAN COUNTY
TIOGA COUNTY
WESTCHESTER COUNTY
News Archive
2016
12.24.2016
$20M Tioga Downs Casino License Fee Distributed
12.19.2016
New Amenities Announced for Rivers Casino
11.30.2016
Tioga Downs Scheduled to Open Dec 2
11.28.2016
Del Lago Resort and Casino to Open Feb 1
11.23.2016
$1M Won at Empire City Casino
11.17.2016
Seneca Niagara Casino Opens Pulse Arena
11.16.2016
Feb 8 Announced Opening Date for Rivers Casino
11.14.2016
Turning Stone Resort Casino to Spend $20M on Renovation
11.07.2016
Tioga Downs Casino May Open by Nov 16
11.01.2016
Gaming Regulations Approved for Upstate NY Casinos
10.12.2016
Slot Machines Arrive at Tioga Downs
10.08.2016
Rivers Resort Casino & Resort Holds Hiring Fair
09.08.2016
Del Lago Resort and Casino to Host Job Fairs
09.06.2016
New Hotel to be Added to Tioga Downs Casino
08.30.2016
Casino License Approved for Tioga Downs
08.25.2016
Casino License could be Approved soon for Tioga Downs
08.21.2016
Job Fairs Scheduled for del Lago Resort & Casino
08.16.2016
Rivers Casino and Resort gives Sneek Peak
08.12.2016
Video Casino Approved for Islandia Marriott
08.01.2016
del Lago Resort & Casino offers Dealer School
07.26.2016
Commission Tours Rivers Casino
07.26.2016
del Lago Resort & Casino Prepares for Dealer School
07.25.2016
Islandia Casino Submits new Parking Plan
07.06.2016
Ribbon Cutting Ceremony Held at Saratoga Casino Hotel
06.13.2016
Judge Dismisses del Lago Casino Lawsuit
05.12.2016
Final Beam Placed for Seneca Buffalo Creek Casino Expansion
04.27.2016
Saratoga Casino and Raceway Changes Name
04.25.2016
NY Gaming Commission to Tour Montreign Resort Casino Site
04.18.2016
Rivers Casino & Resort to be Topping Out
03.20.2016
Seneca Niagara Casino to Host Job Fair
03.18.2016
NY Gaming Commission Ordered to Release Documents to Oneidas
03.04.2016
Name Change for Seneca County Casino
02.22.2016
Yellow Brick Road Casino May Need to Pay Additional Taxes
02.09.2016
Rivers Casino & Resort to Open 2017
02.03.2016
Casino Groundbreaking in Schenectady
01.26.2016
Approval on Southern Tier Casino to be Made Soon
01.19.2016
Lago Resort & Casino Project sued by Oneida Indian Nation
2015
12.28.2015 Seneca Allegany Casino Reduces Slots for Better Experience
12.20.2015 Upstate New York Casinos to Receive Licenses Monday
11.24.2015
Senator Asks NY Gaming Commission to Re-evaluate their Decisions
11.20.2015 Possible Delay in NY Gaming Commission Vote for New Casinos
11.05.2015 New Lawsuit Filed to Stop Lago Resort Casino
10.27.2015 Groundbreaking Held for First Rivers Casino Hotel
07.23.2015
New Design for Old Red Brick Casino Announced
07.11.2015 Future New York Casinos Face New Problems With Appeals Court
07.09.2015 Rivers Casino and Resort Releases New Design Plans
06.30.2015
New Interest in New York Southern Tier Casino
06.30.2015
Binghamton City Council Approves Proposed Casino
05.27.2015
Saratoga Casino and Raceway Breaks Ground
05.05.2015 Chittenango Casino Gets ready to Open
04.30.2015 Yellow Brick Road Casino to Open June 2
04.20.2015 Yellow Brick Road Casino Releases Restaurant Lineup
03.18.2015 Career Fair at Seneca Resorts & Casinos
02.10.2015 Rivers Casino and Mohawk Harbor Granted Zoning Changes
02.05.2015 Future Catskills Casino Begins Clearing Land
01.17.2015 Final New York Gaming License Bidding Reopened
01.06.2015 Fourth New York Casino Opposed by Anti Gaming Group
2014
12.24.2014 Traditions Casino and Tioga Downs Still Hopeful for Casino License
12.22.2014 Plans for Yellow Brick Road Casino Announced
12.17.2014 Upstate New York Casino Licenses Awarded
12.15.2014 Upstate NY Casino Announcement to be Made Wednesday
11.19.2014 Turning Stone Resort Casino to Build Luxury Outlet Center
10.30.2014
A Special Report On New York Casinos
10.14.2014 Culinary Job Fair to be held at Seneca Resort & Casino
09.25.2014 Potential Upstate new York Casino Sites to be Considered
09.18.2014 Proposed Lago Resort and Casino Lawsuit Dismissed
09.10.2014 Seneca Resorts & Casinos Hosts Native American Music Awards
09.08.2014
New $425-million Lago Casino and Resort Proposed for NY
08.19.2014
Casino Jobs Offered at East Greenbush Career Fair
08.19.2014
New Proposed Casino Near New York City
07.31.2014 New York Racinos to Extend Operating Hours
07.08.2014 Plans for Proposed Lago Resort and Casino Released
07.03.2014 New Windsor Approves Zoning for Proposed Greenetrack Casino
07.01.2014 Deadline for New York Casino Licenses Now Closed
06.29.2014 Mohegan Tribe to Apply for Catskill Casino
06.24.2014 Caesars Entertainment and Resorts World Win Approval in Upstate NY
06.16.2014 Foxwoods drops Bid for Catskill Casino
06.12.2014 Proposed Nevele Resort Casino to Unveil Plans
05.19.2014 Oklahoma Tribe Interested in Albany Casino
05.19.2014
Proposed East Greenbush Casino Meets With Concerns
05.12.2014 Upstate New York Casinos to have $350 Million Commitment
04.16.2014
Albany Casino Project Presented to Community
04.01.2014
The Cost of New York Casinos
03.24.2014
Seneca Buffalo Creek Casino Not Meeting Requirements
03.17.2014 Poll Opposes Henrietta Casino
03.12.2014 New York Resort Gaming Facility Location Board Members Chosen
03.09.2014
Seneca Nation seek Alternative Monroe County Casino Location
02.25.2014 Turning Stone Casino to Offer New Cash Play Slot Machines
02.17.2014
Speculation about Possible Seneca Nation Casino in Henrietta
02.12.2014 Catskills Casino Plans Announced
02.05.2014
Henrietta Votes no to Seneca Nation Casino
01.23.2014 Proposed Local Law for Upstate NY Casinos
01.21.2014
Seneca Casino in Monroe County faces Local Resistance
01.09.2014
Traditions at the Glen proposes green casino plans
01.08.2014
Education, Taxes, and Casinos all Topics of Cuomo State Address
01.03.2014 Seneca Gaming Corp is One of 2013's Most Admired Companies
2013
11.20.2013
Unanimous Vote given to Rensselaer Casino
11.14.2013
Traditions at the Glen Announced its Casino Bid
10.29.2013
New York Prepares to vote on Prop 1
10.29.2013
Public Forum Discusses Oneida Indian land agreement
10.24.2013 NY Jobs Now Run TV Ads in Support of NY Casinos and Proposal 1
10.16.2013
Protest Against More NY Casinos
10.14.2013 Gaming Groups pour money into Political Contributions
10.01.2013 Brooklyn Lawyer Brings Law Suit Against New York Casino Bill
08.26.2013 Seneca Buffalo Creek Casino Prepares to Open
08.21.2013 Possible Third Casino For The Seneca Nation
06.24.2013 Toby Keith to Perform at Revel Casino September 22
06.23.2013 New Casinos for Upstate New York
06.20.2013 You Cant Lose Promotion at Revel Casino Resort
06.11.2013
New York Racinos Worry About The Future Of Casinos
06.11.2013 Gov Cuomo Wants Casinos Upstate and Delay NYC
05.08.2013 More Help To More Counties If NY Expands Gaming
04.03.2013
Niagara Falls Casino Enforced by Gov Cuomo
04.02.2013
Possible Gates Casino
03.29.2013
NY Gov. Cuomo Announces State Budget and Casinos
02.27.2013 2011 Revenue Down For NY Indian Casinos
02.01.2013 Possible Casino for Niagara Falls
01.09.2013 Three Upstate Casinos Approved by Cuomo
2012
11.16.2012 Mohawk Bingo Palace adds 149 new video machines
11.15.2012 Akwesasne Mohawk Casino adds 40,000 sq-ft
11.08.2012 Turning Stone Resort Casino to build $25M Entertainment Venue
08.01.2012 Construction begins for Seneca Buffalo Creek Casino
06.18.2012 Resorts World New Leader In Slot Revenue
04.03.2012 Resorts World Casino NYC to be Designed by JCJ Architecture
03.28.2012
Seneca Buffalo Creek Starts Construction with New Plans
03.19.2012 Constitutional Amendment to Allow Full Scale Gaming Approved
03.14.2012
New York Lawmakers Push for 7 New Casinos
02.22.2012 Construction on Seneca Allegany Casino Expansion Continue
01.13.2012 The Seneca Buffalo Creek Casino Hopes to Break Ground
2011
12.26.2011
Possible New York City Casino would allow for Table Games
12.26.2011 New York City Casino is Supported by Gov. Cuomo
12.11.2011
New York Casinos Hope to Expand to Table Games
12.06.2011 New York Gaming Expansion opposed by Seneca Indian Nation
10.28.2011 Resorts World Casino Opens
09.07.2011
Casinos Discussed at Senate Hearing
08.10.2011
Governor Andrew Cuomo Supports Private Casinos
08.08.2011 Seneca Allegany Casino & Hotel to build new tower
08.07.2011 Akwesasne Mohawk Casino opens
06.13.2011 A New Possible Casino Site is looked at By Shinnecock Nation
05.02.2011 Seneca Casinos host Summer Rush 2011
04.30.2011 Aqueduct Casino Hopes to Open phase one This Summer
04.19.2011
Possible new Long Island Casino
04.11.2011 Pocono Mountain Retreat Redefined
02.11.2011 Possible No for Catskills Casino
01.28.2011 High Expectations for Wynn and Las Vegas Sands
01.04.2011 Senecas oppose Mohicans's casino bid
2010
12.18.2010 Buffalo Casino construction may soon resume
12.08.2010 Seneca Hickory Stick Golf Course ranked among nation's best
10.28.2010 New Aqueduct Casino breaks ground
10.01.2010 Shinnecock finally win federal recognition
09.29.2010 Shinnecocks want 3 casinos on Long Island
07.22.2010 Shinnecocks Indian casino has 30+ sites proposed
07.13.2010 Mohawks want Indian Casino in Sullivan County
07.07.2010 Turning Stone Casino celebrates 17 years
06.15.2010 Shinnecock Tribe takes huge step towards Long Island casino
05.11.2010 Turning Stone Resort Casino will serve alcohol
03.17.2010 Buffalo Creek Casino opens $9 million expansion
2009
12.21.2009 Shinnecock Tribe moving closer to building casino
12.07.2009 St. Regis Mohawk void Nov referendum on Catskill casino
11.30.2009 Seneca reaffirm pursuit of Catskills casino
11.27.2009 St. Regis Mohawks vote to end pursuit of Catskills casino
10.06.2009 Buffalo Creek Casino adding 200 slots
09.28.2009 Governor supports federal recognition for Shinnecocks
09.08.2009 Turning Stone Casino to sell liquor in restaurants
08.03.2009 Federal BIA head will tour proposed casino sites in Sullivan County
06.21.2009 St. Regis Mohawk Tribe revisit plan for Catskills casino
06.04.2009 Shinnecock makes personal case for federal recognition
06.03.2009 Seneca seek Congressional help for $1.3 billion Catskills casino
05.27.2009 Shinnecock hope for Indian Casino on Long Island
05.12.2009 Paterson asks feds to approve Catskill casinos
05.11.2009 Seneca casino in Sullivan County
04.17.2009 New York again seeks slots for Aqueduct Racetrack
04.08.2009 Senecas meet with county over casino deal
04.03.2009 Long Island Indian casino pending Shinnecock recognition
04.03.2009 3rd legal fight over Buffalo Creek Casino
04.01.2009 Turning Stone recognized as 'Casino of the Year'
03.28.2009 Buffalo Creek Casino's uncertain future
02.12.2009 Seneca-owned resort in the Catskill Mountains discussed in Albany
02.12.2009 Paterson "Not Interested" on Catskills Casino
01.29.2009 Buffalo Creek Casino gets new federal approval
01.07.2009 Senecas plan casino in the Catskills
2008
12.12.2008 Shinnecock casino plans progressing for Long Island
11.06.2008 Mohicans sue Feds for blocking Catskills casino
11.05.2008 Buffalo Creek Casino gains support in casino fight
09.04.2008 Seneca Nation appeals Buffalo Creek Casino shutdown notice
08.27.2008 Buffalo Creek Casino construction stops
08.26.2008 Buffalo Creek Casino Ruling Stands
08.25.2008 NY Indian casinos revenues up in 2007
07.24.2008 U.S. Seeks Transfer of Buffalo Creek case to NIGC
07.21.2008
Turning Stone Resort and Casino celebrates 15th Anniversary
07.21.2008 New Aqueduct Casino narrows bidders
07.11.2008 Buffalo Creek Casino remains open
07.10.2008 Buffalo Creek Casino shut down by judge
06.27.2008
$1 Billion Casino Approved for Catskills
05.21.2008
Fed government will take land into trust for Oneida Nation
03.31.2008 Buffalo Creek Casino Gets Bigger
03.17.2008 Seneca Allegany Casino Opens New $40 Million Events Center
02.29.2008 'Destination Resort' Expansion Underway at Akwesasne Casino
02.20.2008 New Casino For Catskills
02.11.2008 Construction Begins on Buffalo Creek Casino & Hotel
01.25.2008 St. Regis Mohawks Sue Fed for Rejecting Casino
01.07.2008 Fed Rejects Indian Casino Plan at Monticello Raceway
01.07.2008 Fed Rejects Indian Casino Plan at Bridgeville
01.07.2008 Fed Rejects Indian Casino Plan in Cayuga County
2007
11.26.2007 Buffalo Creek Casino Starts Construction in Dec 2007
10.15.2007 &nbsp Shinnecocks Propose Major Gaming Facility at Aqueduct
10.03.2007 Seneca Nation Plans $333 million Casino Hotel in Buffalo
09.20.2007 Proposed Catskills Casino
09.19.2007 Proposed Catskills Casino
09.19.2007 New "Buffalo Creek Casino" Opens 2010
09.14.2007 Sinnecock Tribe Proposes NYC Casino