Washington Indian Casinos SuperSite!
Washington Indian Casinos
Washington State has 32 Indian casinos owned by 23 tribes.
Each tribe is federally-recognized and signed a gaming compact with the state to share revenues with the state and to limit the casino games that can be played.
Voted "#1 Favorite Casino | Best Slots"

Favored by 500 Nations players,

Bovada

is a world-class online casino with slots, poker, table games, sports and horse betting! Join now and get the $3,000 Welcome Bonus. US Players Welcome

Washington Casino Directories
State Authorized Games
The following casino games have been authorized by the Washington State Gambling Commission.
Washington Indian Gaming Class III Authorized Games
(Class III games are played against the house)
Blackjack, Baccarat, Big 6, Chuck-a-Luck, Craps, Keno, Off Track Betting, Pai Gow Poker, Poker (Class III), Red Dog, Roulette, Sic-Bo, and Tribal Lotteries.
Washington Indian Gaming Class II Authorized Games
(Class II games are played against other players)
Bingo, Flashcash Bingo machines, Mega Mania Bingo machines, Pull-Tabs, Progressive Pull-Tabs, Poker (Class II), Rocket Bingo machines, Tab Force Pull-Tab Readers, and Wildfire Pull Tab machines.
Bovada's 100% Sports Welcome Bonus For a limited time only get a 100% matching welcome bonus up to $250. Live Odds on all sports! US Players Welcome

Minimum Gambling Age
You must be 18 years or older to gamble in Washington State.
News
06.21.2017

Northwood Casino shutdown by Feds
06.15.2017

Lucky Eagle Casino unveils $46 Million Expansion
04.23.2017

Ilani Casino Resort celebrates grand opening
02.22.2017

Northern Quest Casino plans expansion
News Archive
Washington Casino Map
Click on any of the Washington counties on the map below to find local casino information, or scroll below the map to search an alphabetical listing of counties and their casinos.
To find casino information using an alphabetical listing of casino names, go to our page Washington Casino List. You can also go find casino information by going to our page Casinos by Tribes or Casinos by Cities.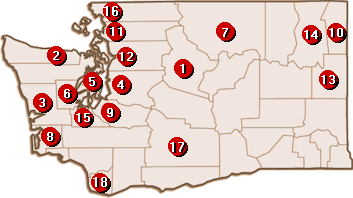 News Archive
2017
2016
11.09.2016
Ground Broken on New Airway Heights Casino
07.14.2016

Plans Unveiled for Spokane Tribe Casino
07.11.2016
New Twin Lake Casino Plans Announced
06.20.2016
Ilani Chosen as Name for Cowlitz Tribal Casino
06.09.2016

Airway Heights Casino Project Approved by Gov. Inslee
05.01.2016
World Record Set by Muskleshoot Casino
02.16.2016
Cowlitz Casino Breaks Ground
2015
06.30.2015 WA Tribe to Build Hard Rock Casino
06.14.2015 12 Tribes Casino Nears Competition
04.28.2015 Cowlitz Indian Tribe to Begin Casino Construction
04.16.2015 Second Waterfront Front Resort Acquired by Skokomish Tribe
04.15.2015 12 Tribes Resort and Casino to Raise Sign
01.07.2015

New Sales Tax Charge at Snoqualmie Casino
2014
11.04.2014 Expansion to Be Complete Next Month at Angel of the Winds Casino
10.27.2014 Parking Garage Completed as Expansion Continues at Nisqually Red Wind Casino
2013
09.16.2013 Swinomish Casino & Lodge Hosts Two Free Concerts
04.10.2013 Emerald Queen in Tacoma plans major expansion
2012
10.06.2012 Cowlitz casino wins support from U.S.
03.23.2012 Spokane Tribe pushes to open West Plains casino in 2013
2011
11.18.2011 Lake Cushman Campground Re-Opened by the Skokomish Tribe
05.23.2011 Red Dragon mini casino sold
05.06.2011 Casino Snoqualmie Announces Chief Executive Officer
05.04.2011 Northern Quest Resort & Casino Announces Summer Concerts
04.16.2011 Lakewood's Happy Days Casino is up for sale again
03.17.2011 Legends Casino plans Expansion
01.25.2011 Lucky Dragonz Casino hopes to open
2010
12.23.2010 Proposed La Center casino get major boost from Fed
12.23.2010 $12,500 Contributed to Local Organizations
12.06.2010 Nooksack River Casino announces "Free Fee Days" in Dec
11.27.2010 Spokane Tribe of Indians seek rival casino near Spokane
08.18.2010 Spokane Tribe's plan for 2nd casino not opposed by County
08.16.2010 Lucky Dog will celebrate grand opening 8/25
07.15.2010 Lucky Dog Casino reopened by Skokomish Tribe
06.01.2010 Court approves sale of 7 Washington mini-casinos
05.13.2010 Economy stalls expansion plans of two tribes
05.07.2010 Little Creek Casino adds new championship golf course
04.15.2010 Nevada Gold agrees to buy 7 mini-casinos in Washington
02.18.2010 Cowlitz endure long wait on La Center casino decision
01.28.2010 Silver Reef Casino adds huge sign on I-5
2009
09.29.2009 Lucky Dog Casino to close its doors
06.19.2009 Elwha River Casino to Host Artisan Alley Craft Show
06.03.2009 Mill Bay Casino building bigger casino in Manson
06.02.2009 Cowlitz La Center casino offer running out of time
03.11.2009 Supreme Court ruling hurts La Center casino project
2008
12.09.2008 Silver Reef Casino opens new expansion
11.25.2008 Cowlitz Casino Resort in La Center
11.24.2008 Angel of the Winds Casino opens new addition Dec. 28
11.06.2008 Snoqualmie Casino holds grand opening
09.02.2008 Vegas-style slots coming to Snohomish County
09.01.2008 Port Angeles casino will open by Christmas
08.25.2008 Hotels help Indian casinos attract more visitors
08.22.2008 Angel of the Winds Casino expansion
07.23.2008 Snoqualmie Casino in Seattle gets financing
07.09.2008 Omak Casino begins construction
07.07.2008 La Center resort casino update
06.20.2008 Tulalip Casino opens $130 million hotel
05.30.2008 Cowlitz La Center casino moves forward
05.21.2008 Cowlitz's La Center casino plan "unaffected" by new laws
05.20.2008 Legends Casino distributes $233,684 to charities
04.21.2008 Port Gamble Casino Resort Coming 2009
04.09.2008 Silver Reef Casino Expansion
04.08.2008

Clark County officials dancing around casino issue
04.01.2008 Vancouver Sues to Block Cowlitz La Center Casino
03.24.2008 Chehalis Tribe Opens $100 Million Great Wolf Lodge
02.28.2008 Colville Tribes Will Build Omak Casino
02.01.2008 Angel of the Winds Casino to Triple Its Size
01.10.2008 La Center Casino Proposal Proceeds
2007
12.18.2007 New Casino Planned for Tacoma
12.16.2007 Court Blocks Large Indian Casino near La Center